10:28 |
Publicado por Julia Rodriguez
|
Editar entrada
Halloween Food Contest 2014
A couple of options for you,
The Best Rolled Sugar Cookies
1 1/2 cups
butter, softened
1 teaspoon
vanilla extract
2 teaspoons baking powder
1.
In a large bowl, cream together butter and sugar until smooth. Beat in eggs and vanilla. Stir in the flour, baking powder, and salt. Cover, and chill dough for at least one hour (or overnight).
2.
Preheat oven to 400 degrees F (200 degrees C). Roll out dough on floured surface 1/4 to 1/2 inch thick. Cut into shapes with any cookie cutter. Place cookies 1 inch apart on ungreased cookie sheets.
3.
Bake 6 to 8 minutes in preheated oven.
Cool completely.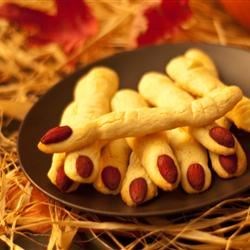 Spooky Wicthes Fingers
Ingredients
1 cup
confectioners' sugar
1 teaspoon
almond extract
1 teaspoon
vanilla extract
2 2/3 cups all-purpose flour
1 (.75 ounce) tube red decorating gel , if found
1.
Combine the butter, sugar, egg, almond extract, and vanilla extract in a mixing bowl. Beat together with an electric mixer; gradually add the flour, baking powder, and salt, continually beating; refrigerate 20 to 30 minutes.
2.
Preheat oven to 325 degrees F (165 degrees C).
Lightly grease baking sheets.
3.
Remove dough from refrigerator in small amounts. Scoop 1 heaping teaspoon at a time onto a piece of waxed paper. Use the waxed paper to roll the dough into a thin finger-shaped cookie. Press one almond into one end of each cookie to give the appearance of a long fingernail. Squeeze cookie near the tip and again near the center of each to give the impression of knuckles. You can also cut into the dough with a sharp knife at the same points to help give a more finger-like appearance.
Arrange the shaped cookies on the baking sheets.
4.
Bake in the preheated oven until the cookies are slightly golden in color, 20 to 25 minutes.
5.
Remove the almond from the end of each cookie; squeeze a small amount of red decorating gel into the cavity; replace the almond to cause the gel to ooze out around the tip of the cookie.
Sure you won´t need it!!!!!
Etiquetas

Archivo del blog